The Tuscan Lodge hold our regular meeting on the first Monday of every month at the Masonic Centre on Dufferin Ave. in London Ontario.
Being a mason is about making good men better. The brethren of The Tuscan 195 accomplish this both in work and play. Over the past few years, we have worked to raise funds and gather donations in support of community organizations like Autism Ontario, SARI Therapeutic Riding and My Sister's Place. We frequently gather outside of our lodge building as well! The Tuscan 195 hosts, whiskey and wine tastings, pub nights, BBQs, golf tournaments and trivia nights throughout the year. With our lodge we hope to see you grow as a man and succeed in your journey as a Mason.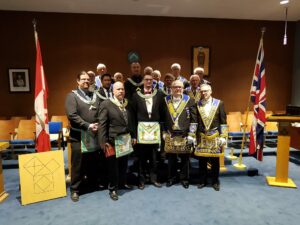 Our History
The first meeting of The Tuscan 195 was held in the Masonic Hall on December 23, 1867 in the Albion Block. A large 3 storey building on the NW corner of Richmond and Carling (Present Day Shoppers Drug Mart).
The First W.M. of The Tuscan 195 was Captain Thompson Wilson, A well-known Freemason in the London District (Canada West). He was the 2nd D.D.G.M in 1857 and the forth in 1859.
In the early years The Tuscan 195 "hung their Charter" in a few places around downtown London, starting at the Albion Block. Them moved across the street to 442 Richmond St. (The Poacher's Arms), to the NW corner of Richmond & King (Royal Bank), back to 442 Richmond after the 1900 fire, to Queens and Wellington (Canada Life), and finally to our present location on Dufferin Ave.
Why are we "The" Tuscan 195?
All Lodges are issued a Charter (an official document that indicates your Lodge name and number). Charters are given out by our Grand Lodge and are to contain the Lodge name and number only. Well someone back in 1867 goofed and place "The" in front of Tuscan 195. Much like today's Tuscans, our brethren back in 1867 probably never took themselves too seriously and ran with the name "The Tuscan 195".
The original charter was lost in the 1900 fire and when Grand Lodge issued a new charter, "The" was removed. But because we are who we are and as a nod to our forefathers we still call ourselves The Tuscan 195.
Our Membership
The Tuscan Lodge has a very active membership, typically meeting once per month for business and more frequently for casual get-togethers. Our membership comprises of many business professionals, entrepreneurs, and government employees to name a few. Our youngest Masons are in their 20's and we are honoured to have some brethren approaching triple digits.
Interested in becoming a Mason?
We continue to seek men looking to better themselves and join a supportive community and who have the commitment to attend our gatherings on a regular basis. If you are thinking about joining a lodge, reach out to The Tuscan at [email protected] or on Facebook so we can have a chat and see if Masonry is right for you.